A happy conclusion after 65 years of waiting!
In December 2009, Uli (CSF member N° 259) contacted the Association. With the help of all the dedicated staff of CSF, she found her brother Daniel before the end of February!
We are going to explain how this miracle occurred.
First, let's introduce Uli.
She was born on August 12, 1945 in Sebnitz /Sachsen, Germany, and has been living in the United States since 1961. When Uli asked questions about her father, she was told that he died in the war. Since there were no photos in family albums and no one talked about him, she did not believe what she was told. She found her mom's diary, a photo of him and some letters which gave her answer about her father. She found the courage to ask her mom questions and got some more answers, but she understood this was a hard and painful subject for her mom and so she stopped asking. She did dream of going to France one day to find him.
Her search was long and tedious: a trip to Paris in 1984 and 1989, the Salvation Army, the Red Cross, all without any luck and no one to help her. Then, finally she contacted a genealogist, who did not succeed either.
During all these years, Uli went on with her life and had five children. She has a loving partner of 25 years and she is a grandmother of eight.
Let us point out that, regardless of our nationalities and the education we have received, we, the « children of the war », have many similarities: the secret surrounding our fathers, the premonition that there is more than what our mothers wanted to say, the willingness to know, which persists all through our lives, the willingness to develop as human beings and to move on in life in spite of such fragile roots and then, as we grow older, the determination to get results.
Let's remember Uli's case, because she never gave up and then her chance turned, the impossible was accomplished within just a few weeks!!!
The chance
When does it come? How do we recognize it? For Uli, it came a long way!
Thanks to Daniel Rouxel, whose story was widely broadcasted by the French media since 2003, the « children of war » have recently been the focus of many articles in the French and German press. Several foreign newspapers contacted our Association and Jean-Jacques Delorme, our President, was kind enough to meet with them.
In November 2009, Jean-Jacques was interviewed by a journalist of the Washington Post, whose article was also published by other American newspapers. Having read that article at her mother's house in San Francisco in December, Uli contacted Jean-Jacques immediately and became a member of CSF.
A lot of time was saved thanks to the help of one of our members who lives in Paris, is bilingual French/English and agreed to serve as the intermediary between Uli and our Association.
The search for Uli's family was made easier because she had a lot of information about her father: she knew his exact name, date of birth, and she also had photos, letters and other documents. Her father was a French prisoner of war when he and Uli's mom met and had a relationship that lasted eight months.
CSF found his name on a list published on a genealogy website. Uli's daughter had also made a search on the forum of an international genealogy's website where his name also appeared.
With such information, it could be assumed that Uli's father originally came from the Paris region. Then, the CSF regional delegate drew up a list of names, which she had found in the French telephone directory, « The White Pages ». Luckily, the first call she made was successful.
Uli's marvellous story continues: her French family is very happy and sharing, the relationship has begun under the best possible auspices. Uli's dad had passed away long time ago but she found her brother Daniel, her sister-in-law Marie-Line, her nephews and nieces and even her aunt, Denise, her father's sister.
Her brother Daniel found a German (I am not an American citizen) sister living in America, who is very grateful for having been accepted by her French family.
Now let us hear what they have to say.
ULI
I still find it had to believe that I found my French family after almost 65 years. I wrote the first email to Jean-Jacques in December 2009 after reading the article about Daniel Rouxel in the San Francisco newspaper.
When I read the story I was so excited, it instantly revived my hope and I went right to the computer to find the organization « Hearts without Borders » on the web. I decided to send an email to Jean-Jacque asking if the organization would be willing to help me find my father Charles Lamiche. He responded that yes they would be willing to help me. That was the best news I had ever had. I did have some fear of what was going to happen if my French family was found they did not believe me and reject me but I knew I would have to be brave and go ahead no matter what.
After joining the organization in January and submitting all the necessary paper work and documents in the February my father was located very fast. On February 13th I found out that my father had died in 1994, but that my brother is alive. After that things really went very fast. When my brother was contacted, Dany said that he knew from my father that he had a sister in Germany and he was very happy that I had found him. He didn't know how to find me.
I received my first email from my brother Dany on February 23rd. I was sad to find out that my father had died and I will never know him and be able to know what it feels like to experience the love of a father. But it made me very happy to find out that my father talked to Dany about me, I consider that a sign of his love for me.
After finding my brother I told my mother about the search and the outcome and shared Dany's emails with her. Dany sent a biography and photos of my father and Mom found out a lot of things about my father that she did not know. Most important for her was the fact that my father did not keep my existence a secret; she kept saying that she couldn't believe it. I think this has been very healing for her and has brought us closer. She also was very impressed with how loving and warm Dany sounded in his emails to me and that he would always send greetings to her.
I am so happy to have contact with my brother Dany and his wife Marie-Line. They are very loving and kind to me and I am so grateful to have the opportunity to get to know them and their family. I never expected that such a happy outcome and I am eternally grateful to all the people who helped me find them. I am looking forward to meeting my brother and the family even though I am still a little scared but I won't let fear stand in my way. I am working on learning French now so I will be able to communicate.
I feel a very special kinship with all the people in the organization, who are war children like me and I know that even if I never had found my French family I would like to get to know others like me in the organization because they all feel like my sisters and brothers to me.
Thank you,
Uli
Daniel
When the phone rings, a question immediately comes to mind, like for most of us, I think: Is it good or bad news? Is it something that is going to change my life?
But when Chantal, the CSF's regional delegate, called me at the beginning of this year, I was far from guessing what she was going to tell me.
It was my wife who answered the phone and, after the usual introductions, Chantal asked her:
– If her father-in-law's name was Charles;
– If he had been a prisoner of war in Germany?
– And, above all, if his son knew about a sister in Germany.
My wife answered « yes ». In fact, I knew that my father had had a love affair when he was in Germany and that a baby girl had been conceived from that relationship. But, unfortunately, I did not know more about it. My father, who was not inclined to talk about his past, especially this part of his life, had told me once, only once, about that sister and a letter that Uli's mother had sent him to inform him about her birth. That's about all I knew; no identity and nowhere in Germany. He didn't say anything more than that. From her mother, Uli knew much more than I did.
Then, Chantal informed us that Uli, my thus far unknown sister, was living in Seattle, in the US, had five children and eight grand-children and that her mother was still alive. She had been trying to find her father for several decades, unfortunately to no avail. But, by a stroke of chance, she succeeded and discovered the family tree that I had posted on a genealogy website (www.ancestry.com). She found out about CSF thanks to a newspaper article written by an American journalist. She contacted the association and, after numerous searches and cross-checking, CSF succeeded in locating me. That was just sheer luck because my home telephone number is unlisted. However, Chantal managed to find my Internet telephone number. Being an amateur genealogist, I know for a fact that luck is one of the major factors in this type of research.
What a surprise and moreover what joy to learn that you have a sister who had finally attained her goal. Well, not quite unfortunately, because our father passed away in 1993 and she would not have the joy of knowing him. In return, however, she found a brother, a sister-in-law, a niece and a nephew who are impatiently waiting to meet her. This should take place later in November.
Slowly and steadily, we are getting to know each other by exchanging emails, photographs and letters. Thanks to the translation websites, but especially thanks to Marie-Jo, who is helping us a great deal, we are overcoming the language barrier.
I think we should praise Uli's relentless efforts and patience all those years and CSF for the help they provided.
I am very proud and happy to have found a sister whom I'll get to meet soon, as well as her family, I hope.
To all those who, like Uli, are still searching for their father, brother or sister, I say: Bear up and good luck!
Uli never gave up and her efforts were rewarded after almost 40 years of unsuccessful research.
Like her, one should never give up even though it could be difficult and sometimes discouraging. There is always hope, and she has proven it!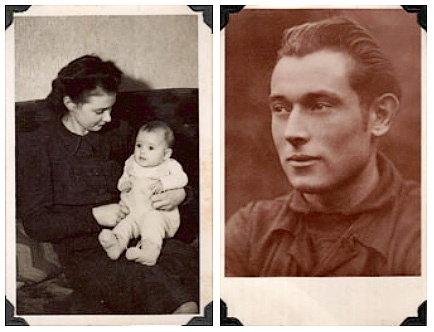 Uli and her Mother Charles Lamiche, father of Uli and Daniel
[/et_pb_text][/et_pb_column][/et_pb_row][/et_pb_section]